THE HISTORY OF OUR SCHOOL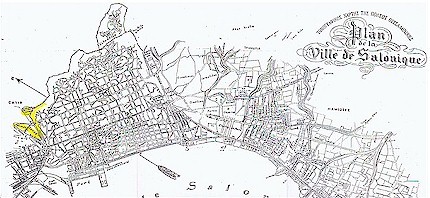 The area,to which our school belongs, is found in the center of Thessalonika and it is called Kallithea. Kallithea quarter is out of the ancient walls of the town and it is called like this because of the good view this area has.
During the Turkish domination the area to which our school belongs, had 800 acres and it was called "Mevlechanes" by the Turkish dominators. In this place there was a Turkish monastery which passed into history with the name of "Monastery of the dancing Dervissi" or "Monastery of Mevlevi". In some documents of 1819 it is shown clearly that the monastery had been there for 150 years. The monastery owned an estate in which there were small houses. Some refugees from Bosnia and Crete were settled there in 1908-09. Later, after 1927, our primary school was build in the same place where the monastery was.
In 1937 a chapel called "The revealed Virgin Mary"was build in the yard of the primary school by refugees. The refugees had carried a holy ancient icon of Virgin Mary to this chapel from their place, Malgara of East Thrace.
In 1950 works for a new church next to the school started and the church was finally completed in 1961.The holy icon of Virgin Mary was carried into this church.

We thank the pupil of the sixth class Chris Eleftheroglou and the clerk of the Municipality of Thessalonika Eftyxia Hatzigogou for their efforts to discover the history of our school and generally of the area.
The translation was made by the teacher of English of our school
Maria Anagnostopoulou-Arabatzoglou.


An old woman , 90 years old , testifies about the history of our school andthe area.
By the pupils of the sixth class Eftyxia Aslanidou Sotiris Bissiklis
The refugees had already come from Asia Miror when the 59th primary school and the small chapel in the yard of the school were built about 1935. The refugees had brought an old holy icon of Virgin Mary and they put it in the small chapel. Later, in 1961 a big church was build next to the primary school and the holy icon was carried there. It is considered probable that during the second world war the primary school had been under the requisition of the German army.At first they used the school as a hospital and later as a place where they rationed food to hungry people.